TMWalker3 is the modular application by VANL. It helps one to reveal information about public transport. TMWalker3 is a very useful tool for carriers and transport authorities. It is a Transmodel-based analysis and reporting application that enables users to gain a quick and clear insight into the available transportation data. Companies can make substantiated choices about, for example, timetables swiftly and easily.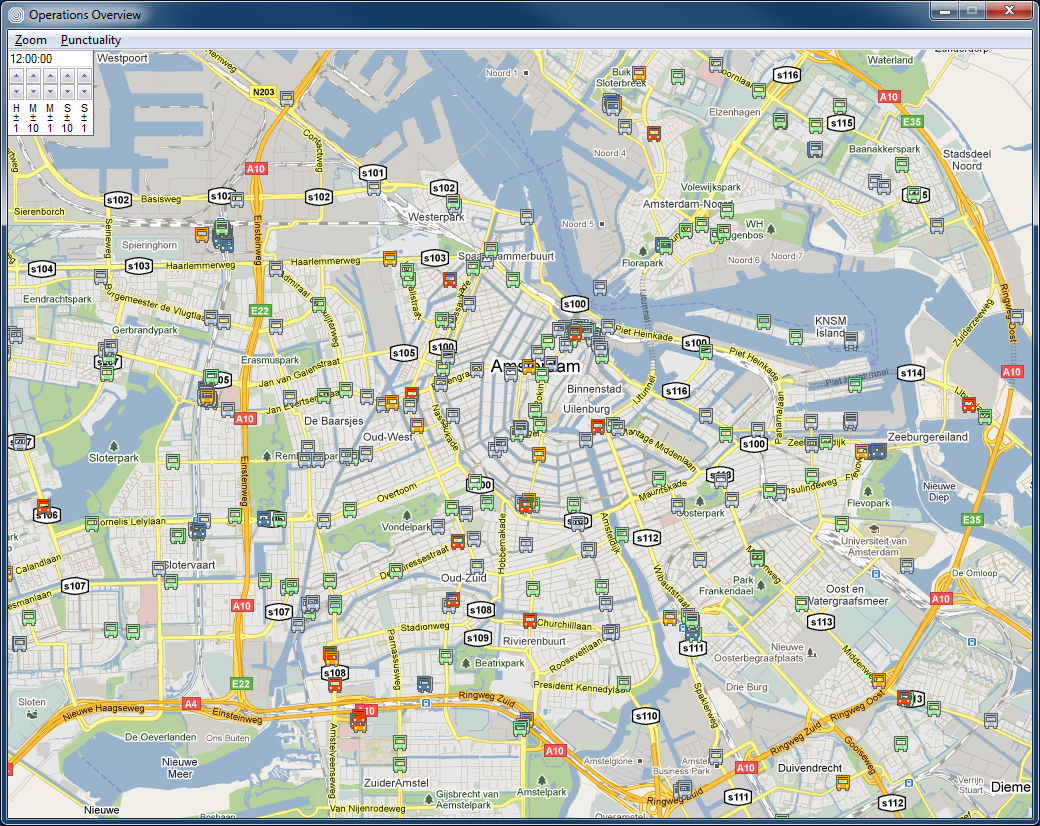 MIS
The MIS module shows an overview of all results coming from executed analyses. Qubical, pivot tables and geographic reports clearify these results.
Fare
This specific module enables marketers, OV-chip systems and webshop administrators to organise and execute ticketsales, validate and control the access to travel and deal with traveler payments.
Journeys

Journeys is de laagdrempelige module voor geplande en uitgevoerde ritten. Bruikbaar voor iedereen in het openbaar vervoerbedrijf, van klantenservice tot rijdend personeel. Hij wordt gebruikt voor het beantwoorden van eenvoudige vragen en voor het formuleren van vragen aan de specialist.
Personnel

Concession and team managers can communicate structured, personnel related information to employees with the Personnel module. These employees can – depending on their type of authorization – view this information.
Architect
De Architect module enables one to analyse multiple performances of a public transportation company. For example puctuality, homogenous periods, driving times, occupancy rate and trajectories. Analyses and reports are executed based on previously determined concepts, company rules and standards.
Finance
Finance supplies structured, communicable financial statements. One could think of; monthly financial results, profit/loss statements,  revenue and cost distributions.
Marketing

An important aspect of developing transportation products is the analysis of current behaviour. The Marketing module enables insight into this behaviour from different points of view. One could think of traveling frequency, traveled distance, number of unique fares, time of day and age categories.
Vehicles

The Vehicles module has everything to do with the information (the validity) of driving equipment. Next to the general information, such as the percentage of functioning, there is detailed information available, such as log files per vehicle. If desired, push notifications can be sent when a deficiency or malfunctioning is detected automatically.
Devices
Devices levert een real-time overzicht met de configuratie en status van alle apparatuur die deze informatie kan leveren. Aan de hand van instelbare waardes kunnen gebruikers via e-mail bericht worden over deze status en veranderingen daarin.
Infra
The infra module delivers information about the interaction between vehicles and activated equipment, for example the GPS position of stops or if vehicles gain access in time when at dynamic traffic lights.
Passengers

This module encompasses all functionalities that have to do with counting / calculating the number of fares (kilometres) and lets the user, next to request, also compare these results.
Quality

This module enables users to monitor the quality of information processing programs and company processes. Depending on the KPIs, the users see real-time information on their dashboard about limit values that are about to be or already have been reached. If desired, notifications can be sent about, for example, a datastream that was lost or a processing job that was finished.
Need our input?
Ask away!
VANL Software
Gebouw Twinning
De Zaale 11
5612 AJ Eindhoven
Phone (040) 2390620
E-mail info@vanl.nl
VANL and VANL Software are both trading names of Vervoerapplicaties Nederland BV